Since the outbreak of COVID-19, Unilumin has always kept track of its development and fulfilled its social responsibility through donating money,masks and other supplies in response to the COVID-19 outbreak. So far, the epidemic in China has been basically controlled. However, it continues to spread overseas. Facing the escalating situation of overseas epidemic, Unilumin has been always cared about its worldwide agents, customers and partners, and the epidemic control in other countries.
Having known the shortage of medical supplies in other countries, Unilumin has taken quick actions and done its best to provide firm support and assistance to its customers and the international communities. Up to now, 300,000 face masks have been donated, including surgical masks, N95 respirators and FFP3 respirators to Italy, France, Russia, Germany, the Netherlands, Spain, Georgia and other countries to assist them in containing the epidemic.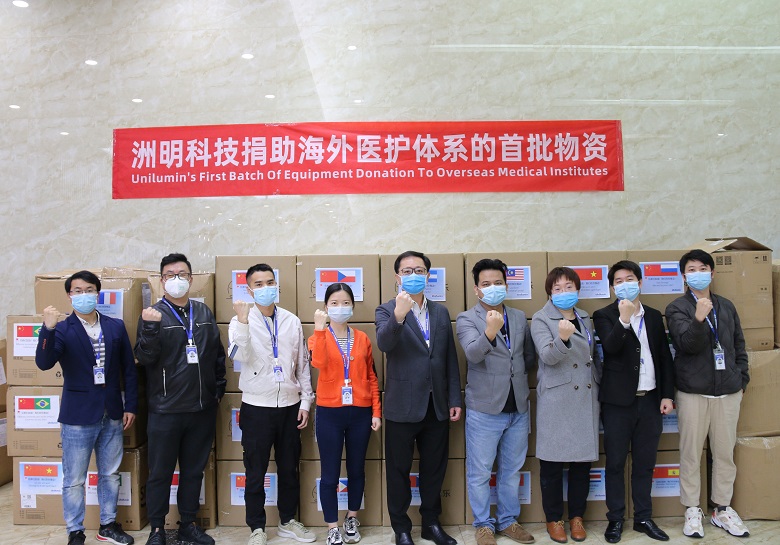 At the same time, Unilumin has also made best use of its global sales and service network. With the collection of the oversea demand for anti-epidemic supplies by its oversea branches, Unilumin continues to prepare for the further donation of anti-epidemic supplies so as to provide help for the oversea epidemic prevention and control to the greatest extent.
To quote a line from the Book of Songs, " You threw a peach to me, and I give you a white jade for friendship". The donation of medical supplies from Unilumin to overseas customers and the international communities does fully demonstrate the connotation of the poem.
After COVID-19 broke out in China, the international society extended a helping hand to us with batches of supplies. Unilumin's oversea customers and partners actively responded to China's medical demand and delivered firm support and assistance in providing medical supplies. And now COVID-19 spreads overseas, as a Chinese enterprise deeply influenced by Chinese traditional culture and adhering to the core values of "altruism and mindfulness", Unilumin is willing to reciprocate their earlier support to China and help to fight the epidemic.
The outbreak of COVID-19 has also made us realize the vision of a community with a shared future for mankind. In face of the grave threats posed to mankind by COVID-19, the international communities can only prevail by working and cooperating together. This time, the donation of anti-epidemic supplies from Unilumin not only symbolizes the good friendship between Unilumin and people all over the world, but also conveys the belief that we will conquer the disease when we work together.
At present, the global societies are still facing grim situation, and there is an arduous struggle for anti-pandemic. For a brighter future for mankind, Unilumin will continue to contribute to anti-epidemic and perform its social responsibility in the LED industry. Just as the blessing words posted on the medical supplies donated by Unilumin says, as long as we work together to fight COVID-19, we will definitely defeat it.